ATTEMPT AT RAPE OF BORDER TERRIER;SEXUAL HARASSMENTS, INDECENT EXPOSURE IN PUBLIC AREAS; CONSTANT DISOBEDIENCE; EATING TOILET BRUSH, ATTEMPTING TO EAT GREEN PARROT, ETC. SEE DAY BY DAY UPDATE HERE.
SIXTEN "FECES" JINGSKOG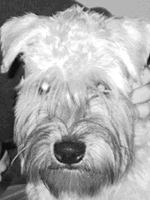 Date of Photograph
2002-03-09
Aliases: Sigge, hunnajävel, Talibanen, Äckelpelle, Judas, Al Quaida impersonated
DESCRIPTION
Date of Birth:
2001
Hair:
Brown
Place of Birth:
Strövelstorp [Streu-vellse-torp]
Eyes:
Black
Height:
Unknown, may reach crouch
Complexion:
-
Weight:
Liftable
Sex:
Not yet
Build:
Long and tall when necessary
Nationality:
Irish-Swedish
Occupation:
Unknown
Remarks:
Sixten has a twin sister with matching looks. No evidence of her acting as body double as of yet.
Scars and Marks:
Plenty, but only visible when he is shaved. (not common)
CAUTION
SIXTEN IS KNOWN FOR HIS ABILITY TO TAKE A CRAP BASICALLY ANYWHERE, AND WITHOUT WARNING. THERE IS ALSO PROOF THAT SIXTEN HAS BITTEN HIS JUNIOR MASTER JACOB RIGHT ON THE PECKER, AND HE HAS EXTENDED HIS REACH AND AMBITIONS EVER SINCE. DO NOT STROLL THE HOUSE NAKED IN HIS PRESENCE.
CONSIDERED UNARMED, ALTHOUGH EXPERT AT BREAKING WIND
IF YOU HAVE ANY INFORMATION CONCERNING THIS DOG, PLEASE CONTACT YOUR LOCAL DOG IMPOUND OR THE NEAREST SWEDISH EMBASSY OR CONSULATE.
REWARD
If you have any idea of how to make him do what he is told, in stead of just giving you that "are you nuts?"-look, you receive a free bingolott.

March 2002
Poster Revised March 2002

---
[ View PDF Version ] [Hear The Soundbites]
[ U.S. Embassy Bombings ] [ New York Field Office ]
[ Ten Most Wanted Fugitives ] [ Facts ] [ FBI Home Page ]